Concrete Answers Series for Architects, Engineers and Developers |
Click here for more answers
Performance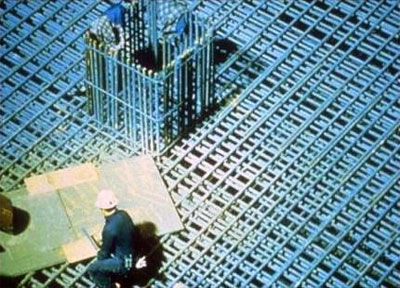 Conventional concrete with an 8.5-inch slump will not find its way through dense rebar, while SCC with a 28-inch spread flows through easily.
SCC gives architects more design flexibility. SCC's unique characteristics give architects much more flexibility for vertical and horizontal applications. SCC's flowability allows for more complex and aesthetic concrete design features. Unlimited opportunities exist with innovative options for color and texture of exposed surfaces. Perhaps most importantly, SCC produces exposed surfaces that are virtually defect free, allowing concrete's beauty to shine.
High performance concrete requires high-performance admixtures, and full lines of concrete additives exist to make durable and cost effective SCC. Placement efficiencies can increase 300% and labor costs can be reduced by 70%. Architects and engineers will benefit from increased design flexibility without sacrificing performance or increasing placement costs.
Self-Consolidating Concrete Demo
Thanks to BASF Admixtures, Inc. for providing the video footage.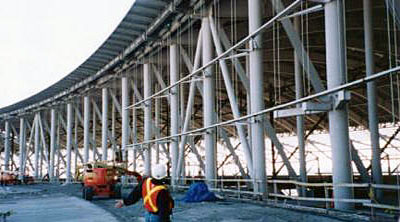 SCC solves difficult problems:
Because of a lack of overhead clearance, SCC was pumped from the bottom into these 101' tall, 28" wide steel-reinforced columns.
Additional Advantages of Self-Consolidating Concrete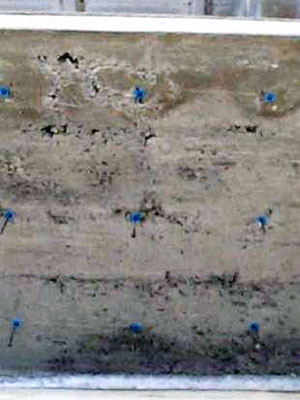 Regular concrete with vibration:
This picture demonstrates the "bugholes" on the surface of conventional concrete that has been placed into a form and vibrated. Precasters spend valuable time and money "rubbing out" surface imperfections when using conventional concrete.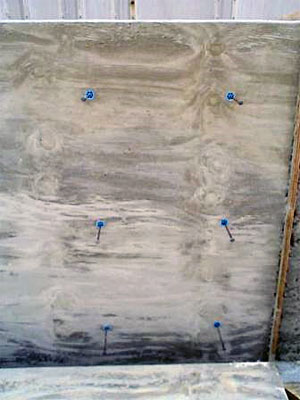 Self-Consolidating Concrete:
The surface of this SCC has been improved tremendously when placed at a 28-inch flow diameter with no vibration.